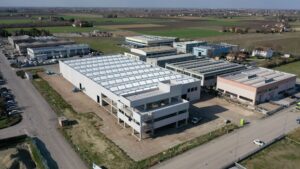 Our new headquarters is under construction!
The building of our new plant is in progress in Lugo Industrial Area, not far from our current headquarters. 5000 sq meters will hold all our activities, production area and corporate offices. That is not all: the project focuses on business innovation and digitalization of our in-house processes. Thanks to Industry 4.0 plants and new software we expect the business management to become more efficient and therefore to boost customer satisfaction.
This investment is an important step forward for the company evolution: it reinforces our commitment in creating opportunities in our territory and in enhancing our service.
The headquarters is expected to be completed by the end of the year. We will keep you posted!